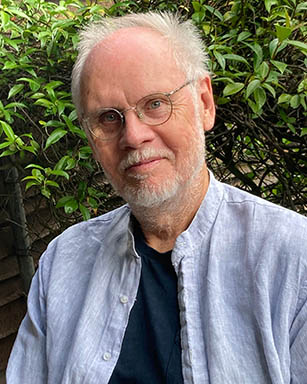 We are an active creative firm based in the World Heritage Blue Mountains NSW – working more widely across NSW and Australia. We offer sustainable planning, design magic and construction know-how, all with budgetary consciousness based upon our broad knowledge and decades of experience. Our projects range across typologies and scales, in seeking the best achievable solution to often wicked problems.
Our services are integrative, bringing the best consultants and teams to meet our client's needs at a professional level. An investment in professional design services pays off – inspiration plus perspiration – lifting the economic and emotional value of your project. "Quality is remembered long after price is forgotten." (Aldo Gucci, 1938)
Read More
NIGEL BELL


Principal Architect
Nigel is the principle, with over 35 years as a registered architect (ARBN: 4547) and a Fellow of the Australian Institute of Architects for his contribution to the profession. Elected to the AIA and the NSW Architects Registration Board multiple times, member of the bushfire Australian Standards, expert witness to the 2020 'bushfire' Royal Commission, winner of multiple personal and project awards, Nigel has been an educational, sustainability and bushfire building/recovery leader for decades, sharing his enthusiasm and passion with the profession and community. Give him a call about your project.
Recent & Current Projects
"I am SO delighted with the design you and Eliza came up with. I keep gazing at my model with delight - thank you so much for all the care and thought you have put into this."
" I'm happy that we asked you to design the 'studio', not only because you know all the local fire regulations and could whip through the approvals quickly, but also because it is a really lovely building, which blends into the house nicely, has good light, and will provide our guests with a place to stay. We were lucky to find you …"
" Thank you for coming and presenting your design concept. Whilst we were initially surprised by the concept, we are very happy to have chosen you as our architect. ..most importantly we were encouraged to think more outside the box and make the most of the existing building envelope, which after all, is more environmentally friendly than building another addition."
Just a quick note to say thanks for organising the very enjoyable and informative ECOhomes tour on Saturday. It's great to get an insight into the fantastic work that you are doing in promoting sustainable solutions in the built environment and in bringing these projects into fruition. I look forward to seeing you next year!!"
"Thank you for your prompt approval and processing of the progress claims, thanks again for allowing me to do this project, you have taught me a lot over this period of time and I have enjoyed working with you."
"Have we told you recently what a champion you are for all your hard work and success with getting our project through the difficult approval process..."
Stuart & Chris J.
Clients, heritage alterations and additions, Valley Heights.
"Our house is almost finished .. and I just want to reiterate what a wonderful place it is to live. So sunny and friendly, we just love it ... (and) we have just what we wanted... It was a pleasure to work with you."
Sarah L
Client, alterations and additions Blaxland.
"Many thanks for your excellent workshop .. and the valuable research carried out ... Everyone is now enthusiastic and ready to move ahead with the .. project...
Sally S
Client representative, heritage alterations and additions.
Read More